John Rassias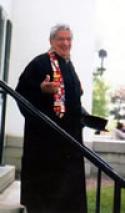 John A. Rassias (1925 - 2015), the William R. Kenan Professor, developed the innovative and highly effective approach to teaching languages, known as the Rassias Method® or the Dartmouth Intensive Language Model.
[To watch John Rassias explain, in his own words, languages, learning, and the Method, click here; to hear him talk about the future of language instruction, click here; to watch the professor explain his philosophy of "teaching heart-to-heart" during the inaugural Dartmouth "TEDx" event on April 17, 2010, click here.]
A native of Manchester, NH, Professor Rassias graduated summa cum laude from the University of Bridgeport, and, as a Fulbright scholar, studied at the Université de Dijon in France, where he received his doctorate. He also did research at the Sorbonne and studied French drama at the Cours René Simon under the master himself.
In 1964, he began a long relationship with the Peace Corps language programs, serving as Director of Language Programs at Dartmouth, consultant and trouble-shooter for Peace Corps programs throughout the world, and Director of the first pilot program of languages for the Peace Corps in Africa.
He joined the Dartmouth faculty in 1965, and adapted the Rassias Method to a new academic community in 1967. Since the introduction of the approach to all language departments (including Chinese, French, German, Modern Greek, Hebrew, Italian, Japanese, Latin, Portuguese, Russian, and Spanish), the number of foreign language majors has steadily increased. This statistic stands out as a startling reversal of the national trend in recent years of declining enrollments in foreign language courses. Teachers in other colleges introducing the Rassias Method report similar renewals of interest.
Rassias was founder and former Director of Dartmouth's Language Study Abroad (LSA) program, whereby Dartmouth students may complete their language requirements in a foreign country in the target language. Under the Rassias Method, students learn enough of a foreign language in two ten-week terms to be functional and go abroad for further accelerated study in the LSA programs. For several years, he was Director of Dartmouth's Foreign Study program (FSP) aimed at students with a strong proficiency in a foreign language who wish to further their studies abroad.
Professor Rassias was the author of numerous articles; the publisher of The Ram's Horn (a journal for teachers of language and culture) and "The Rassias Connection" (a newsletter of the Rassias Foundation), as well as the author of three textbooks in French and Greek. He wrote To be Human: The Unzipped Mind, a book covering different modes of communication, a philosophy of teaching, and comparisons with historical and mythological exemplars. The book is set to be released in late 2017. Professor Rassias lectured throughout the world to various companies and organizations. Topic titles range from "Communication in a Perilous World," "One Nation Divided by One Language," "Love in Eighteenth Century France," to "Greek Mythology: Our Past, Present, and Future."
In the summer of 2006, Professor Rassias and Luanne Zurlo worked together to create the March 2007 pilot program for Intensive English (IE) in the outskirts of Mexico City. In 2007, this pilot became the Inter-American Partnership for Education, a collaboration between Worldfund and the Rassias Center.
Professor Rassias was most recently honored (March 2011) by the Peace Corps for his continued service to that organization.
John A. Rassias died on December 2, 2015, three short months after his retirement.